10 Key Things to Look for in a Neighborhood When Buying a Home
Buying a new home can be exciting and overwhelming all rolled into one. When looking for the right home for your family, it's not all about the square footage, the number of bedrooms and bathrooms, ranch style or two story; the neighborhood you choose should be a big deciding factor. Do your research! Here are some key items you should consider when doing your research.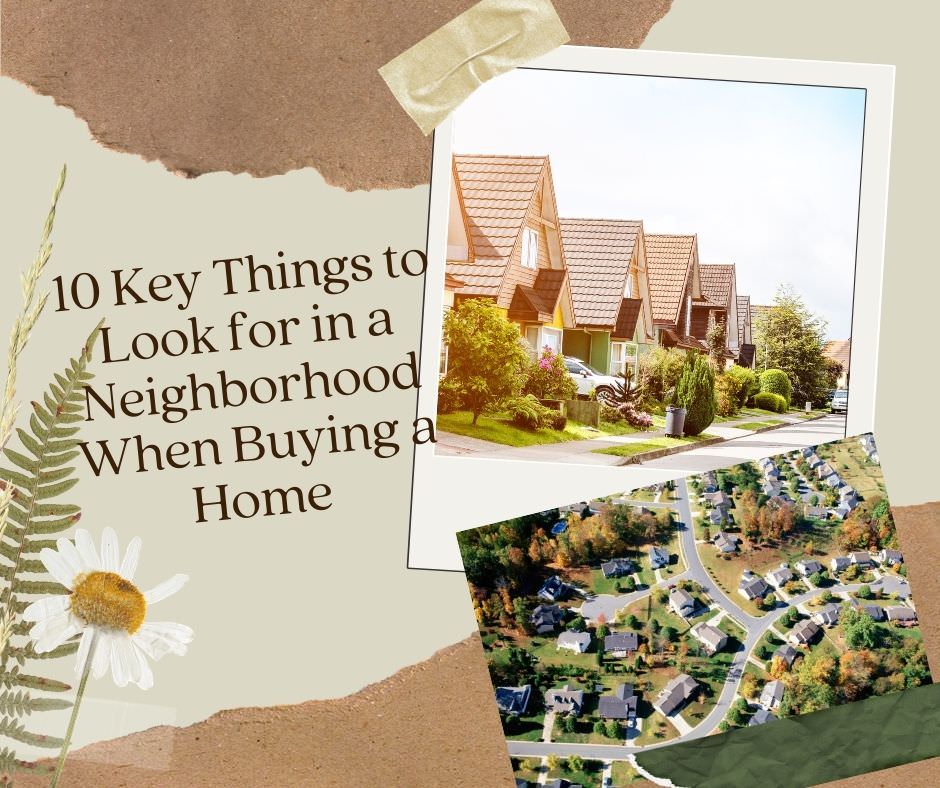 Schools –
If you have children or plan on having them, you would want to ensure that they have the best education offered to them. Even if you don't have children or plan on having children, making sure your neighborhood has good schools is still important. A neighborhood that offers good schools can increase your home value.
Safety –
Checking out the crime rate and/or types of crimes in your potential neighborhood will not only give you the power of knowledge but will also give you peace of mind.
Commute to Work –
Finding the perfect home is ideal but, having a long commute will take you away from being able to enjoy your new home, not to mention time away from family.
Emergency Services –
Unfortunately, considering the distance from the nearest hospital and/or fire department is really important. If an emergency were to happen and the nearest hospital is far away, it could be the difference between life or death. As for a fire, your insurance premium could be higher if the nearest Fire Department is far away or there isn't a fire hydrant nearby.
Noise Level –
If you have found a home you are really interested in, you should go by the home at different times of the day to ensure the noise level remains agreeable. Check out the surrounding area as well. Maybe there's a railroad crossing nearby that you weren't aware of, if the train comes through at 2:00 am blaring it's horn, it may make the home less attractive.
Retail Accessibility –
Being close to the grocery store and some of your favorite retail locations can not only make you happy but it can be convenient. No one wants to drive a far distance when they run out of milk; not to mention if you're sick and have to go pick up a prescription.
Amenities –
Having a nearby playground for your young kids to play with friends is a plus, but what about teenagers? Are there places you'd feel comfortable with your teens hanging out with friends, the local mall, the movie theater, roller skating?
Place to Exercise –
Would you feel safe and comfortable taking a long walk or run around your neighborhood? Are there sidewalks available? If you live next to a busy road, safety may be a big concern while walking or running. Even if your neighborhood has sidewalks available, the sidewalks could potentially be consistently blocked by cars parked in their driveway.
New Construction –
Is the home near open land that could be used for Commercial construction or new home construction? If you have found a home and the view is part of why you fell in love with it, you don't want a new fast food restaurant getting built to block your few or create more traffic. However, new homes being built could potentially raise your home value.
Rental homes –
Moving to a neighborhood where there is a lot of home rentals is usually not ideal. Someone that owns their home is generally going to take better care of their home vs. someone that is renting. Also, if there are a lot of rental homes nearby, there is less chance of stability, making it hard to get to know your neighbors.
I love helping people find the right property in Albuquerque and Rio Rancho, and sometimes it's important to check out the neighborhood before getting too attached to a particular home.  I look forward to talking with you today about finding the perfect Albuquerque neighborhood or Rio Rancho real estate for your needs. Call me! Let's check today.
More Tips for Buying and Selling Real Estate
https://albuquerquehomes.com/wp-admin/admin-ajax.php
https://albuquerquehomes.com/things-look-neighborhood-buying-home
yes