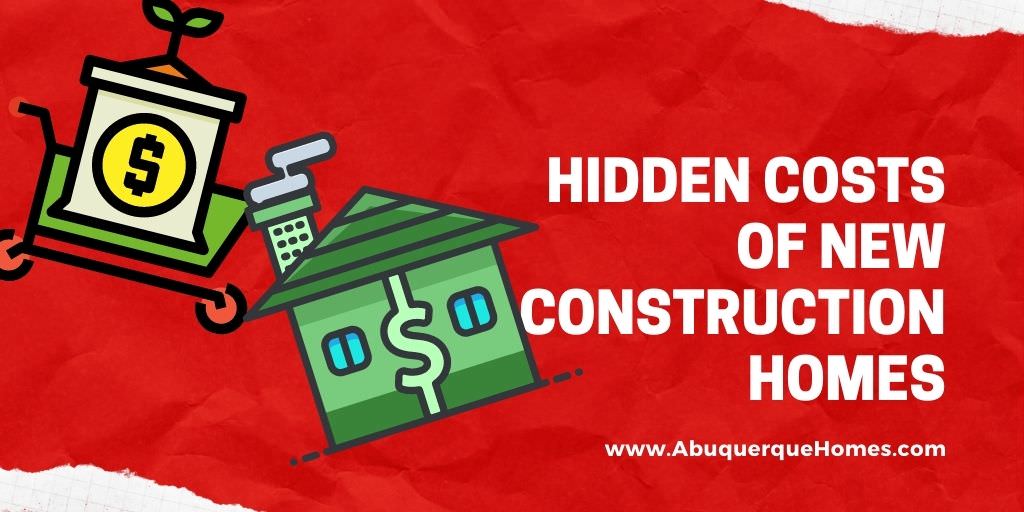 Hidden Costs to New Construction – For many reasons a brand new home that no one else has lived in can seem more enticing than purchasing a resale home. Some buyers believe that it is a smarter investment because there will be less maintenance and no outdated items to remodel. As an added bonus it will be move-in ready and have modern, trending features everybody wants.
What some buyers may not be aware of is new homes have costs that are not widely communicated in listing information or commercials and advertisements.
If you are looking at a brand new home make sure you take these "hidden costs" into consideration.
Unseen Defects
With a brand new home, you would think that everything is automatically in pristine condition. The home is brand new after all. Builders can and do make mistakes. Sometimes, building companies can become neglectful in an attempt to get a certain amount of homes in a new community built on time. It is not unheard of for a new construction home to incur issues after heavy rains for example.
To keep the probability of this happening very low make sure to research the home builder. Also, have your own home inspector come in and check out the home. The rules are different in homes that are brand new since the law requires the builder to have their own inspections performed during the build process. Your bank will not require you to get one, but you may be wise to spend the additional money, it is worth it.
Related: How Unemployment is Affecting Home Buying
Upgrades Cost Money
The model home you walk through in that brand new neighborhood is there to show you what your house could look like with all the upgrades and finishes. will have upgraded finishes. The builder wants to appeal to a larger number of buyers.  Please understand that not everything on display comes standard. Many times the kitchen, floors, and bathrooms will have features that cost extra and well above the advertised selling price. Make sure to ask what is included in the starting price or base price of a home. Some communities will include those solid surface stone counters, while others will provide a neutral-colored laminate. Know what you are getting and paying for.
You May Only Be Paying for the Building and Raw Land
Some new construction homes do not include any landscaping or exterior amenities. Though it seems like every home should automatically come with a grassy yard and a back porch or deck, most new construction homes do not. Some homes may offer expert landscape design, but only in the front yard, the back yard is delivered as a graded but dirt lot void of any type of landscaping. Make sure you know what is included outside of the home as well as inside. Installing your own landscaping can be a significant extra cost to consider.
Related: 5 Things the Virtual Tour Won't Tell You
Not Bringing a Buyer's Agent
Many times when you visit a model home it is hosted by an agent representing the construction company. This agent will tell you they can represent you as the buyer, however, you should always know heir first loyalty is to the builder who is paying their commission. It is always in your best interest to have a buyer's agent with you. A buyer broker that's only interested in your best interests in the transaction. It always best to understand the hidden costs of new construction.
If you are looking for a new construction home or are hoping to buy a home in Albuquerque or Rio Rancho, please Contact Me Anytime.
More Great Tips:
John McCormack
505-980-4576
https://albuquerquehomes.com/wp-admin/admin-ajax.php
https://albuquerquehomes.com/hidden-costs-new-construction
yes