Albuquerque Neighborhood Blog
Search Albuquerque Homes By Neighborhood for specific blog content and homes for sale as it relates to that Albuquerque neighborhood or community. Click on the neighborhood link or simply browse through all neighborhoods.
Cabezon Communities Rio Rancho

Hillcrest Park Condominiums NE

Placitas New Mexico

Welcome to Andalucia de La Luz Albuquerque NM 87120


Andalucia de La Luz is an exceptional community of finer homes in North West Albuquerque. The name Andalucia comes from Spain and is her largest territory. The neighborhood of Andalucia is comprised of just a few builders but with an excellent mix of luxury patio homes starting at just 1380 sq.ft to upscale custom Casas with over 3600 sq.ft. Pricing typically runs from the low $200's to low $500's with just a few exceptions. Many of the homes homes here offer exceptional mountain and or Bosque views.

View all currently listed Andalucia Homes For Sale

Two primary builders began construction in 2006' with a massive track of land that is still being built on to this day.
Scott Patrick Homes and Sky View Homes led the way at Andalucia and still offer home sites for fully custom to semi custom home options. ASW is another builder with inventory as well as newcomer Summer Tree who currently has available inventory.

El Bosque is a private gated community within the parameters of Andalucia de La Luz. El Bosque offers the more customized home options with larger lots and private Bosque access. Vacant lots are still available for build to suite ranging from $199K to $220K.

Located between the Rio Grand River to the East and Coors Blvd to the West Andalucia is perfectly located on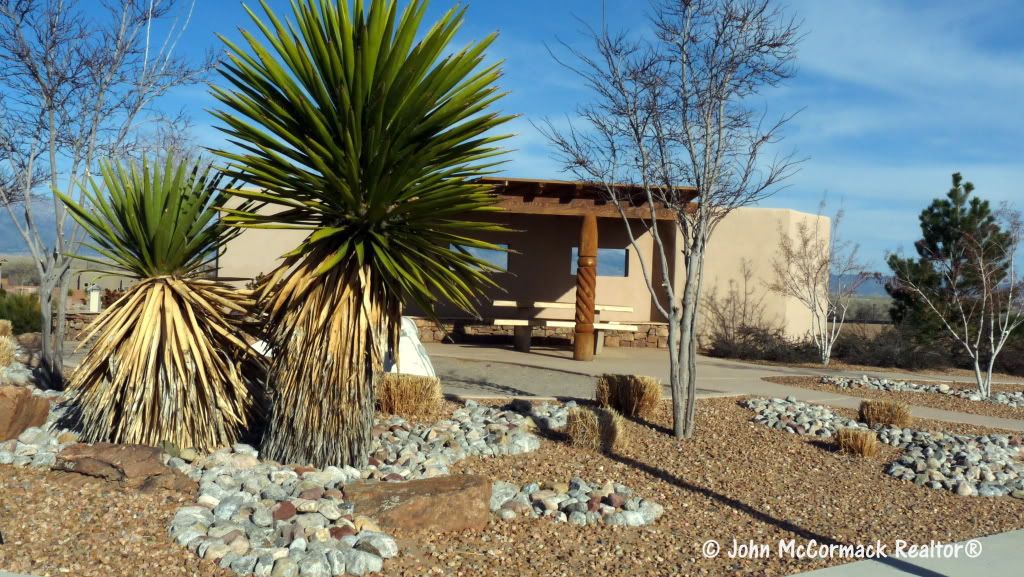 Albuquerque's West Side. Shopping is very convenient with Cottonwood Mall to the North and and a large shopping center at the I-40 & Coors interchange. Just across the street from Andalucia de La Luz is a small shopping complex offering Jinja Bar and Bistro, Aramando's salon, Jake and Harley's Cigars, LA Boxing and many others. Two major river crossings are easily and quickly assessable. I-40 to the South 2 miles or the Montano Bridge just 1 mile North.


You can search here to find all Real Estate for sale in Andalucia de La Luz and El Bosque

Several outdoor activities are located near Andalucia including private trail access through the Bosque (Cottonwood Forrest) This awesome trail can be walked or biked and some equestrian travel is permitted.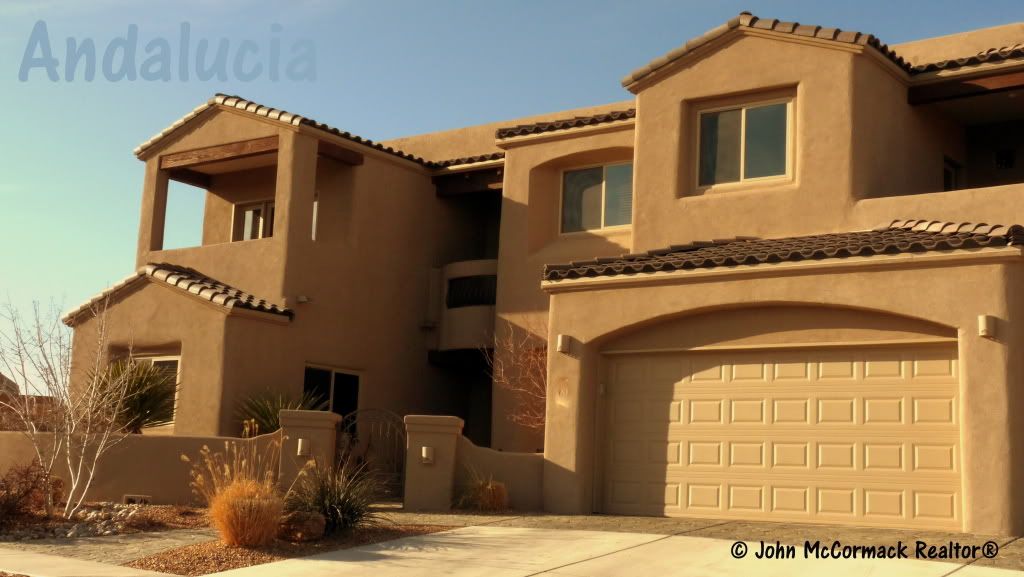 Petroglyph National Monument is just ½ mile to the west with a very nice trail system leading to some excellent ancient Petroglyphs.

Andalucia de La Luz is part of the Albuquerque Public School system (APS) with S.R. Mamon elementary, John Adams middle school and West Mesa high school. St. Pius is a private high school located just south of Andalucia.
MLS data of all homes for sale in Andalucia de la Luz

***
View Andalucia de La Luz in a larger map
Welcome to Bosque Del Rio NW Neighborhood
A private community tucked away near the Rio Grand River and Bosque (Cottonwood Forrest).

The Bosque Del Rio Neighborhood is probably one of Albuquerque's best kept secrets! Situated just south of Paseo Del Norte (a major river crossing) and just east of Coors Blvd this quite community is rarely even noticed by the majority of commuters. The quiet gentle access road is not often traveled by those not residing there.

Search here for Bosque Del Rio Homes For Sale

Bosque Del Rio was a test development by Centex homes, they provided the basic floor plan for many models but allowed the original purchaser to modify beyond the normal of a production builder. The buyer was allowed to modify walls and basic design elements of the home, this created a much more personal look and feel to the individual residence. You may discover a neighbors home with a similar floor plan but many different features and elements that set it apart. This strategy was a hit with Centex and the neighborhood has become a coveted area.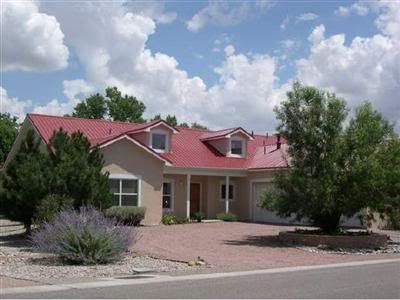 There are approximately 115 home sites in Bosque Del Rio with some homes on the East and Southern border that are fully custom and on larger lots that back direct to the Bosque. Most floor plans are 3 - 5 bedrooms that range from 1900-3700 square feet. Priced between the low $300,000 to upper $500,000 it's a neighborhood in reach for many. Most homes in Bosque Del Rio are single story with either a Northern New Mexico style (Steep pitched metal roof w/dormers) or a Pueblo Revival style. In lieu of concrete driveways many have caliche style drives. The neighborhood has matured nicely over the 11-13yrs with many gorgeous Cottonwood Trees providing shade and beauty.

Bosque Del Rio is a covenant protected neighborhood, visit Bosque Del Rio Homeowners
Assosociation or BDRHoa.com for additional information. With street names like Casa Del Rio, Bosque Del Sol, Bosque Entrada Trail, Pueblo Grande and Rio Orilla you will love your new address.

The location of Bosque Del Rio is a premium, it is nicely hidden but just two minutes to Coors/Paseo Del Norte and five minutes from Cottonwood Mall, major retailers and an abundance of top name restaurants. You wont have to travel far for anything including a Bank of America just around the corner.

Bosque Del Rio Real Estate For Sale
The Neighborhood of Bosque Del Rio is served by the Albuquerquqe Public School System (APS.edu) with Cibola High, Lyndon B Johnson (LBJ) middle and Petroglyph elementary. Private schools are also available in the immediate area.

View Bosque Del Rio Subdivision in a larger map
Bosque Meadows Subdivision NW Albuquerque NM 87120

Welcome to Bosque Meadows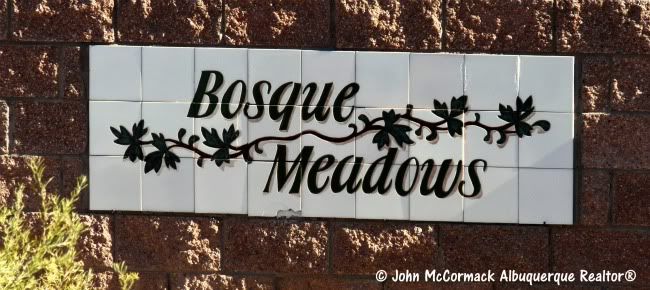 Bosque Meadows is a quaint community very conveniently located on Albuquerque's West side just off of Coors Blvd and 1 mile South of Paseo Del Norte a popular river crossing and equally 1 mile North of Montano Rd another preferred crossing. Bosque Meadows Neighborhood Map.

Bosque Meadows was built solely my the well known national builder DR Horton. The community is small with just 100 home sites. These homes vary from a single story 1200 sq.ft floor plan to a modest 2100 sq.ft two story model. The Bosque Meadows community started construction in approximately 1997-2000. Homes are currently priced in the low $160's to the low $200's

The home style in Bosque Meadows is mix of Southwest Pueblo look to a more
contemporary pitched territorial. Some homes offered a Spanish style tile roof while others the standard composite shingle, still others with the flat pueblo roof (engineered with a positive slope). Xeriscape type landscape is a common front yard theme while back yards will range from more Xeriscape to lush green grass, trees and water features. Here is a current list of Bosque Meadows Real Estate.

Most conveniences are very nearby with the Riverside shopping and office complex just south of the Bosque Meadows subdivision and Cottonwood Mall approximately 2 miles to the north. Restaurants, grocery stores, medical facilities are all in close proximity.

Bosque Meadows is served by the Albuquerque Public School system (APS). Petroglyph Elementary, Lydon B Johnson (LBJ) middle school and Cibola High school. The private Bosque School is a nearby alternative to public schools.

For those looking for affordable, convenient and attractive housing on the Northwest side of Albuquerque then Bosque Meadows may be just what you are looking for. Take a peek here at all Bosque Meadows Homes For Sale.

View Bosque Meadows Subdivision NW Albuquerque NM 87120 in a larger map
Welcome to Cottonwood Trails Subdivision NW Albuquerque 87120

Cottonwood Trails is a private and gated community on Albuquerque's West Side. The Cottonwood Trails neighborhood was developed and built by Centex Homes beginning in 2003. The project offered both single story and two story homes ranging in size from 2375 sq.ft to over 3320 sq.ft. The offered plans ranged from 3 bedroom plus office up to 5/6 bedrooms. Just 60 homes were placed in the community creating a nicely knit neighborhood. With only three street named Salt Cedar Trail NW, Santo Lina Trail NW and River Willow Trail NW getting around is a breeze. The gated access provides that additional security for these homeowners.

Find Cottonwood Trails homes for sale and Cottonwood Trails Real Estate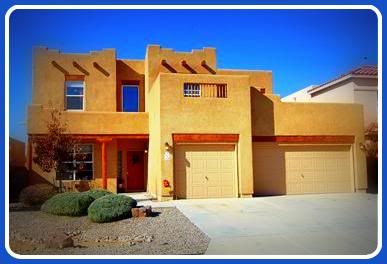 The Cottonwood Trails neighborhood is covenant restricted with a Home Owners Association (HOA) in force, the primary role of the association is gate maintenance and enforcement of the covenants implemented to protect values of these fine homes.

The styling of the homes within the Cottonwood Trails Subdivision is that of contemporary Southwest. Some elevations show the distinct Pueblo Flat style roof and others show a combination of Flat/Pitched with Spanish Tile. The interiors may offer Vigas, Korbels, Kiva style gas fireplaces and other Southwest accents. Others offer more traditional accents.

The location for Cottonwood Trails is superb! Situated in the "West River Valley" or Area 103 as noted in the Southwest MLS this community is just East of Coors Blvd and only two minutes South of Paseo Del Norte a major river crossing shaving many valuable minutes during a morning and evening commute. Shopping, Dining, Groceries, etc. are all just 4-6 minutes away with Cottonwood Mall being the anchor for hundreds of fine retailers. A Bank of America and small commercial strip are just around the corner from the Cottonwood Trails Neighborhood.

Cottonwood Trails is very close to the Bosque or (Forrest) which offers walking, biking trails and nature excursions. The Bosque is a hotbed of family activity throughout the year!
The Cottonwood Trials community is served by the Albuquerque Public School System (APS.edu) with Cibola High,Lyndon B Johnson (LBJ) middle and Petroglyph elementary. Private and charter schools are also available nearby.

Another favorite and coveted neighborhood lies just to the east of Cottonwood Trails known as The Bosque Del Rio Subdivision you can also find other Albuquerque Neighborhoods and homes for sale.

View Cottonwood Trails Subdivision Albuquerque NM 87120 in a larger map

If you are considering the purchase or sale of a home in the Cottonwood Trails community I would love the opportunity to earn your business and exceed your real estate expectations.
We are Albuquerque Homes Realty and AlbuquerqueHomes.com. Please call, text or email me, John McCormack to discuss your real estate needs.
Hillcrest Park Condominiums Albuquerque

Hillcrest Park is an affordable and desirable condominium complex located in the heart of Albuquerque. The excellent NE location and easy access to ABQ Ride and transit lines makes this a great place to live. Hillcrest park Condominiums offers a community pool, club house and gym.
In working with Albuquerque buyers, sellers and investors I have listed and or sold many Hillcrest Condos. I know the Hillcrest Condominium complex area, staff and home owners association (HOA) details quite well.

Hillcrest Park Condo Condominiums offers three basic floor plans
One Bedroom, One Bath 784 Sq.Ft
Two Bedroom, One Bath 965 Sq.Ft
Three Bedroom, Two Bath 1172 Sq.Ft
There may be some minor variations to these plans and sizes.


Here are the current available Hillcrest Condominiums for sale.
Enjoy this YouTube presentation of Hillcrest Condominiums and Unit 303 For Sale


Some Hillcrest Condominiums offer a fireplace. Many of the ground units offer a small patio for your outdoor living while the upper units provide a balcony, some with swimming pool and or mountain views.

The Hillcrest Park Condominium Home Owners Association manages many facets of the complex including collection of the monthly dues. The dues vary dependent on floor plan. The HOA dues cover natural gas which is utilized to heat each unit, city water, city sewer, building insurance, maintenance of common areas, club house, pool and hot tub maintenance, laundry mat facility, playgrounds, dog runs, parking, pest control, landscape, extra storage & more!

Hillcrest Park Condominiums is in an excellent NE Albuquerque location near shopping, dining, medical, public transportation, all major conveniences and the Big I interchange of I-25 & I-40.

Search here for all Hillcrest Park Condos For Sale

Google Map of Hillcrest Park Condos

My personal knowledge and insight of the Hillcrest Park Condominium complex is extensive and I will do my best to exceed the real estate expectation's of both buyer and seller in this popular Albuquerque Condominium community.
Contact me, John McCormack, Albuquerque Realtor® with Albuquerque Homes Realty for more details on buying or selling a Hillcrest Park Condominiums Albuqueque.

Welcome to Laz Luz, a Townhome community designed by Antoine Predock.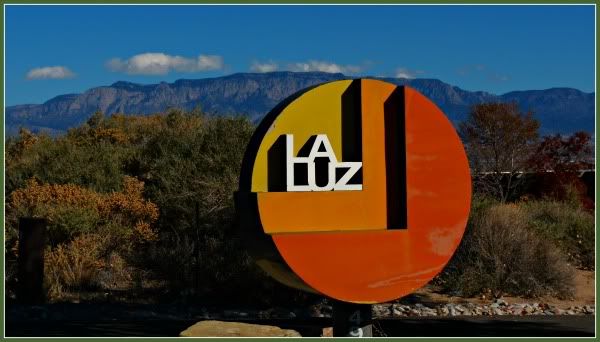 La Luz (Spanish for "The Light") is an exclusive community of townhomes established along the Bosque (Cottonwood Forrest) of the Rio Grand river. The complex is spread out over 80 Acres and provides 2 Tennis Courts a beautiful outdoor swimming pool, manicured grounds and access to the trails found along the Rio Grande Bosque.

World renowned architect Antoine Predock designed this complex to be in harmony with the elements around it. The adobe construction, flowing architecture and terraced affect all provide a very attractive community with amazing views and timeless floor plans. It has been said the La Luz del Oeste complex is keen to a giant sculpture rising from Earths landscape.

The La Luz subdivision consist of 96 Adobe homes most being built between 1968 and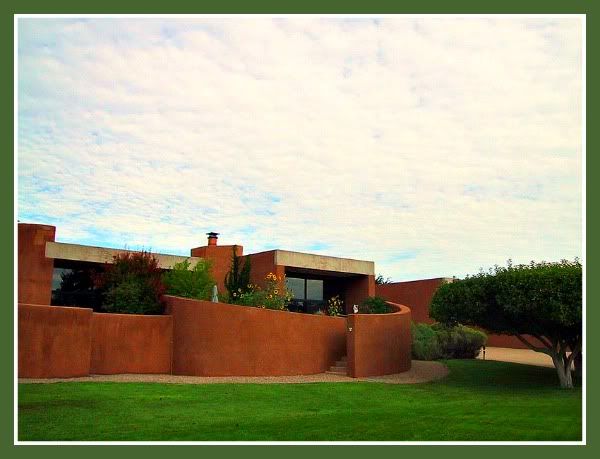 1972. Although the floor plans vary the general interior theme was stunning red brick floors and aesthetic Douglas Fir planked ceilings. Each La Luz Townhouse is designed with privacy yet mountain and city light views in mind. Through the past 43 years most have gone through some type of modern updating particularly with kitchens and baths but the contemporary and world class feel remains true. The average size of La Luz home for sale is approx 1930 sq.ft with the largest home being just under 2400' and smallest approximately 1400'

La Luz truly is a community and the people that are fortunate enough to reside here pride themselves for being part of the culture and harmony found only at La Luz del Oeste

La Luz is perfectly situated on Albuquerque's west side, just off Coors Blvd. Excellent access to I-40 is just 2.5 Miles and Montano road another river crossing is just under 1 mile north. Petroglyph National Monument is 1.5 miles. Shopping and dining opportunities are abundant with the delightful Jinja restaurant just across the street! You wont feel the hustle of traffic in La Luz the design eliminates traffic and city intrusions.

Browse through the La Luz community website

Search La Luz Homes For Sale

View La Luz Townhome Community in a larger map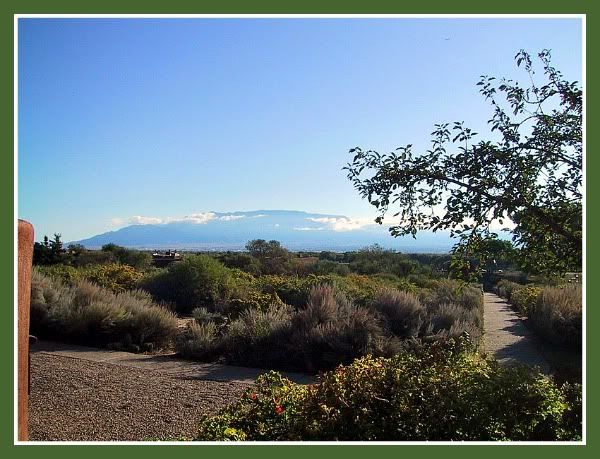 Mirador Subdivision in NW Albuquerque NM 87120

The Mirador Subdivision in NW Albuquerque NM 87120 is a small community of approximately 65 homes. The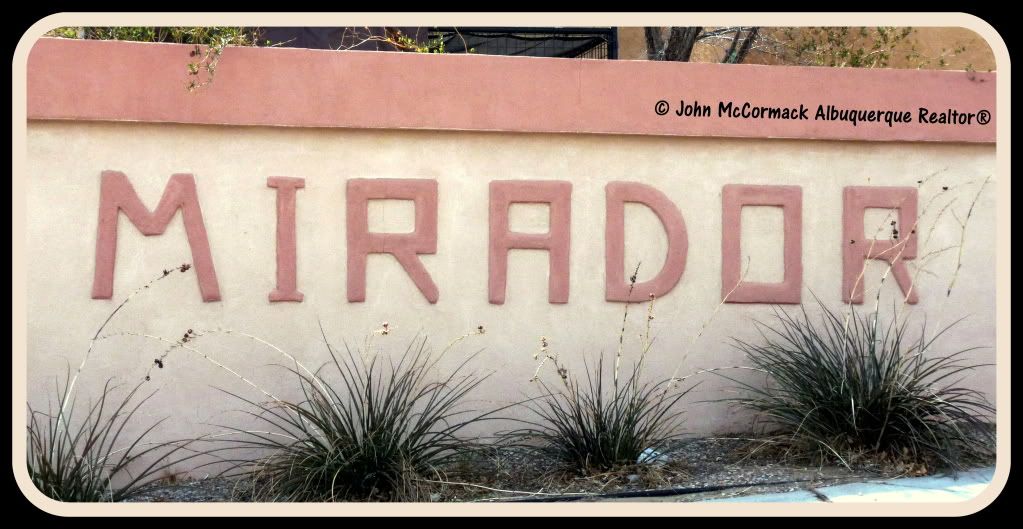 build project began back in 2002' and finished in 05'. Mirador is a combination of patio homes and larger two story homes all built by Virgil Gil. Homes sizes range from the smallest 1300 sq.ft 3 bedroom, 2 bath patio home to a much larger 2700 square foot 4 bedroom, 3.5 bath home.


Check here for current homes for sale in Mirador Subdivision NW Albuquerque.

When Virgil Gil offered these Mirador homes he did something a bit different than other competing builders of that
time, he offered his customers options in order to personalize each home with the distinctions that clearly set it apart from others. A southwest theme is prevalent but not a constant. You will find homes with raised ceilings, exposed vigas, kiva style gas fireplaces, nichos, ceramic tile, granite and glass block accents. Many of the two story homes in Mirador offer balconies off the master suite with incredible mountain and city views.

The commute from the Mirador Subdivision in NW Albuquerque is a snap whether one works on the west side or east side. The Montano bridge, I-40 or Paseo Del Norte river crossings are all easily accessible providing needed options on those busy morning and evening commutes.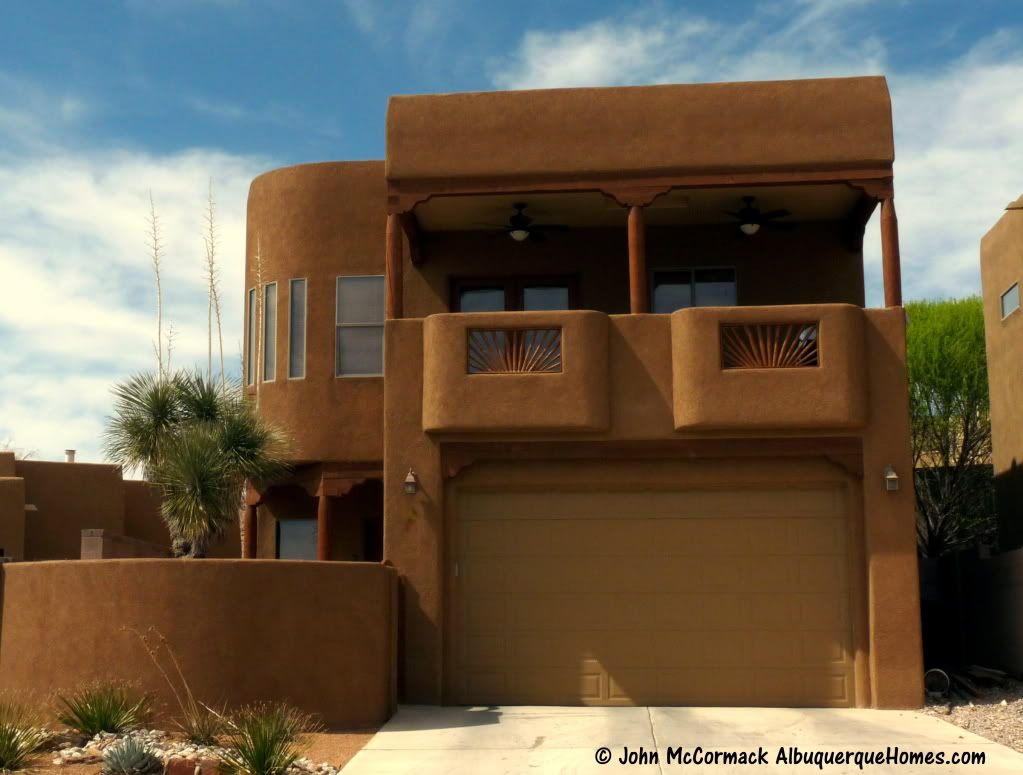 Mirador is conviently located at the intersection of Dellyne and Coors Blvd NW. (See Google Map Mirador)There is a small business complex within Mirador with several conveniences including The Salsa Grill, Golden Shears Salon, Dominos Pizza, Westside Eye Care and Hearing Health Care to name a few. Major shopping is a quick trip to the Montano/Coors corridor or north to Cottonwood Mall.

The Mirador Subdivision in NW Albuquerque 87120 is serviced by Albuquerque Public Schools (APS) The following districts apply. Volcano Vista High School, Lyndon B Johnson Middle and Chaparral Elementary. There are two private schools very close by. St Pius High and Bosque School.

Hikes through the Bosque cottonwood forest and Petroglyph National Monument and easily accessible and if you love to bike or jog Albuquerque is famous for the abundant bike trails in pristine condition throughout the city.

Real Estate for sale in Mirador NW Albuquerque.
YouTube Video Blog Mirador Subdivision NW Albuquerque


View Mirador Subdivision NW Albuquerque 87120 in a larger map
The Oxbow Neighborhoods in NW Albuquerque NM 87120 offer a wide variety of home options. The Oxbow community is divided into 5 separate and distinct subdivisions to include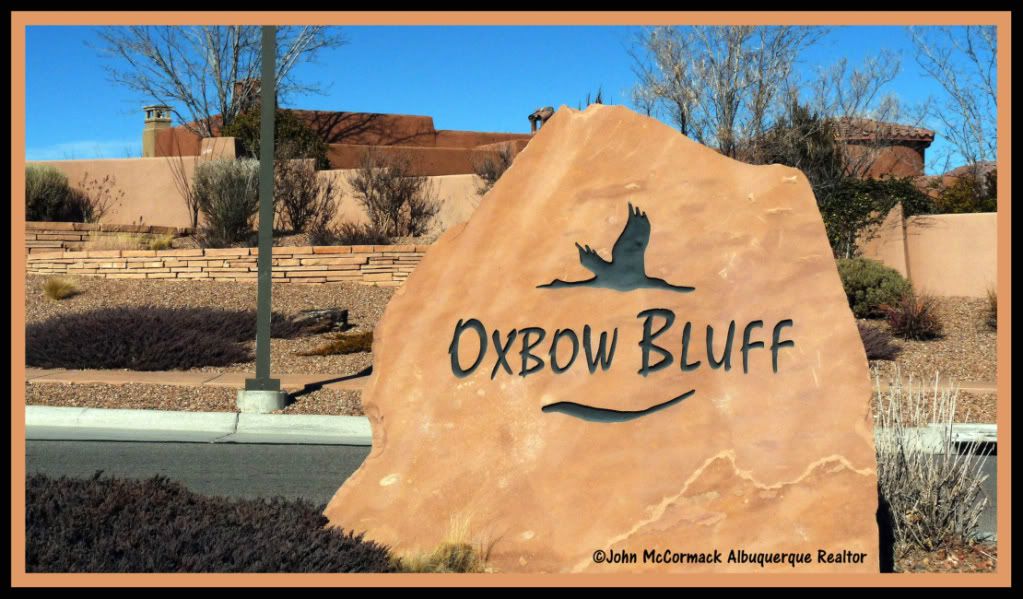 Oxbow Bluffs, Oxbow North, Oxbow Park, Oxbow Village and Enclave at Oxbow. The range of available home is extensive from 1500 sq.ft Patio homes in Enclave at Oxbow to a 7700 sq.ft luxury masterpieces in Oxbow Bluffs. Some of the communities are gated while others are open. View all Oxbow Homes For Sale

The Oxbow development began in 2004' with Charter Homes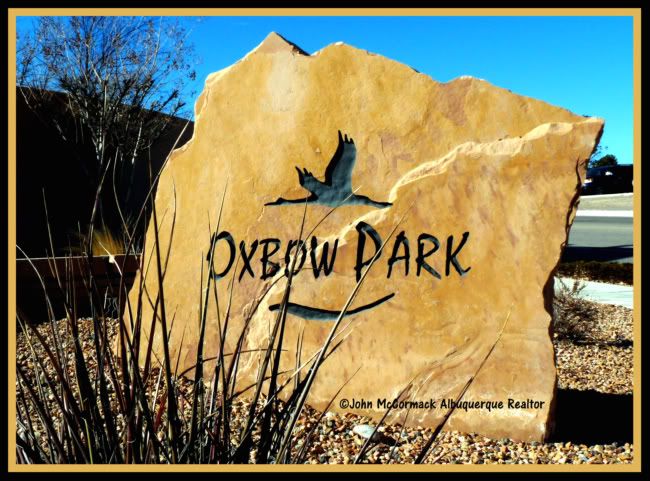 being the primary builder. Some of the larger lots on the eastern edge of Oxbow and nearest the Rio Grande river were made available to custom home builders and their clients. The incredible views of the Sandia Mountains, Rio Grande River and Bosque (Cottonwood Forrest) as well as expansive Albuquerque city lights is unparalleled at these designated home sites. Charter Homes created an excellent mix of affordability and luxury in their custom and semi-customs home plans.

The Oxbow neighborhoods are in an excellent and accessible area of Northwest
Albuquerque 87120. North of I-40 just 1.5 miles, East and parallel of Coors Blvd and nestled between Namaste to the North and Sequoia to the South. The steep drop to the Rio Grand River serves as a natural border on the east. The the highly acclaimed and private St. Pius school separates Oxbow North from the other four Oxbow communities.
See Oxbow Map

Shopping, restaurants, medical facilities and all modern conveniences are close enough to be the Oxbow neighborhoods to be appreciated but far enough to be unnoticed. Two major river crossing are easy to navigate at I-40 to the south and Montano to the North. Paseo Del Norte is further North still. Explore all Oxbow Real Estate For Sale

Each separate subdivision in Oxbow has its own Home Owners Association and fees vary
dependent on available security gates, parks and common areas. The total of home sites for all of the Oxbow communities is just over 400 with Oxbow North having the highest concentration of homes at 163. Oxbow Bluff is populated with 100% fully custom homes on larger lots of approximately .25 to 1.0 Acres. Check here for Oxbow lots for sale.

The neighborhoods of Oxbow are served by the Albuquerque Public School System (APS). West Mesa high school, John Adams middle school and Susie Rayos Marmon elementary.

With Bosque access from Oxbow your family can enjoy a trek near the Rio Grande or just to the west enjoy an exploration of the Petroglyph National Monument, Rinconda Trail or scurry up one of the extinct Volcanoes on the West Mesa. There is plenty to like about the Oxbow Neighborhoods in NW Albuquerque NM 87120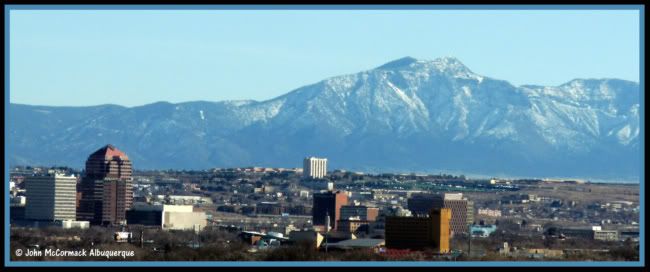 If you're considering the purchase or sale of an Oxbow area home I would love the opportunity to earn your business and exceed your expectations. I am easy to find and remember, we are Albuquerque Homes Realty and AlbuquerqueHomes.com. Feel free to call or text 505-980-4576 or email John@AlbuquerqueHomes.com.

View Oxbow Neighborhoods NW Albuquerque in a larger map
*********(((((((((((((((()))))))))))))))))))))****************
Rancho Encantado Subdivision NW Albuquerque NM
The Rancho Encantado Subdivision was developed and built by DR Horton homes in 2004-5. The majority of the neighborhood is detached single family homes ranging in size from 1500 sq.ft to just over 3000' Prices typically range from the $150's to the high $290's. There is a separate gated community Rancho Encantado Condominiums for those looking for the conveniences and security of a gated complex and condominium lifestyle

Rancho Encantado Subdivision is very conveniently located in N
W Albuquerque near the private St. Pius High School and within two minutes of the business district at the Coors and I-40 interchange. You wont travel far to find major grocery stores and retailers like Walmart, Walgreens, Home Depot, Staples etc. and restaurants like Chili's, Applebees etc. Dental and medical facilities are here as well.

The proximity to I-40 being a major river crossing and feed to the downtown, old town and East portion of the city makes this short commute a very attractive reason to consider the Rancho Encantado Albuquerque.

The Rancho Encantado subdivision offers a very large and private "Rancho Encantado Park" you will find play equipment and plenty of grass for all activities. The

Rancho Encantado is part of the Albuquerque Public School (APS) system. Students would be attending West Mesa High, John Adams Middle and Chaparral Elementary. St. Pius is a private high school just across Coors Blvd to the east.

Rancho Encantado is a covenant protected neighborhood.

Rancho Encantado HOA Homeowners Association.

Search Rancho Encantado Homes For Sale

Map Search Rancho Encantado Homes For Sale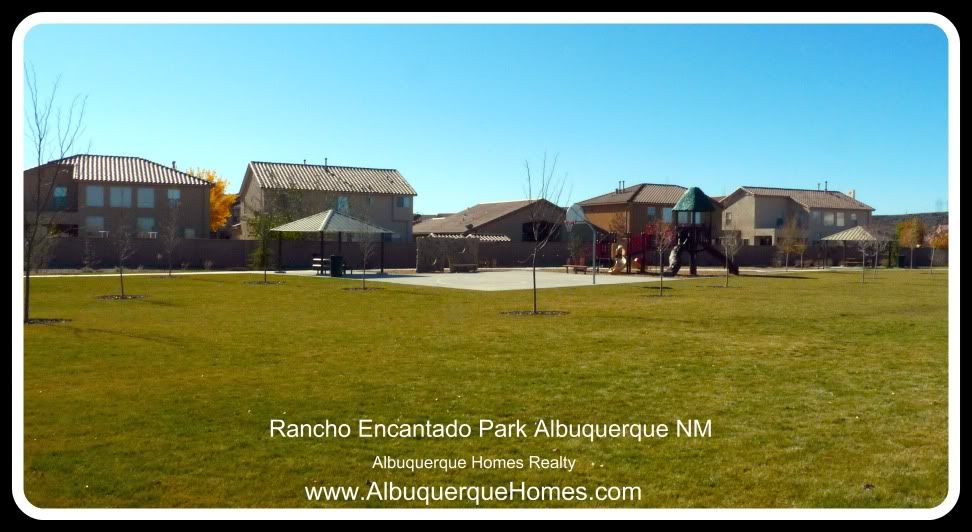 View Rancho Encantado Subdivision in a larger map
If you're considering the sale or purchase of a Rancho Encantado Albuquerque home it would be my pleasure to assist you. I have extensive knowledge of the community, the builder and the floor plans. I will work hard to earn your business and exceed your expectations. Call, text or email with any questions or to set up a consultation. John McCormack 505.980.4576 John@AlbuquerqueHomes.com
Rinconada Trails NW

Rinconada Trails is a small subdivision on the West side of Albuquerque near Petroglyph National Monument. Rinconada Trails consists of approximately 55 homes all built by Tiffany Homes SW. This neighborhood shows a mix of elevations but the Southwest Styling or "Pueblo" look is more prominent. The construction is frame with a Stucco exterior, some elevations offered stacked stone accents or exposed beams like Vigas. Rinconada Trails is a non HOA covenant community but is very well maintained and an affordable median range community.

The location for Rinconada Trails is very good with Unser Blvd to the immediate west and Coors Blvd to the East. I-40 is about 2 miles to the South. Shopping, restaurants, retail, banking, medical and dental facilities are all within 1.5 miles. The general area of Rinconada Trails is shared with other popular neighborhoods like Story Rock and Rancho Encantado.

The name Riconada is shared with name of the popular Rinconada Canyon being part of the Petroglyph National Monument also a very small township in Northern NM. The park offices of Petroglyph Monument are across Unser Blvd from this neighborhood. The street names for Rinconada Trails are all based on Native American dialect including Zaltana (High Mountain), Eyota (Greatest One), Huyana (Rain Falling), Chenoa and Alona.

You can search homes for sale in the Rinconda Trails Subdivision Albuquerque or use this Rinconada Trails map.

Homes in Riconada Trails Subdivision range in size from 1470 sq.ft to just under 2550 sq.ft and offer a range of 3 bedroom-2 Full Bath to 4-5 Bedroom with 2 full, 1 ¾ and 1 Half bath. Some single story options but most two story.
Welcome to Stonebridge Subdivision NW Albuquerque


Stonebridge is great neighborhood well situated on Albuquerque's West side. The community was developed and built by Centex Homes. Centex offered two separate tiers of homes for this community. There is a Stonebridge community swimming pool with private keyed access, a large park and playground equipment. Walking and biking trails meander through much of the neighborhood.

The brand new Rio Rancho Presbyterian Hospital is situated just to the North and West of Stonebridge and the Lovelace West side Hospital is about a mile to the East. Shopping is quite convenient with Cottonwood Mall less that 2 Miles away as well major Big Box retailers and and excellent mix of notable restaurants and grocery stores.

Access to major roads including Unser, Coors, Hwy 528, Rio Rancho Blvd and Paseo Del Norte are all easy to navigate towards your next destination. There is also a newABQ Transit Park & Ride just down the hill so you can park your car and use the Albuquerque Transit system.
Stonebridge is within the Albuquerque Public School District (APS) to include
Cibola High School, James Monroe Middle and Seven Bar Elementary.
Stonebridge is an HOA Covenant Protected Neighborhood.

Search and see all Available Stonebridge homes for sale!

View Stonebridge Subdivision NW Albuquerque in a larger map
Welcome to Story Rock Subdivision in NW Albuquerque NM


Story Rock is a quiet Subdivision very conveniently located between Unser Blvd to the West and Coors Blvd to her East. Story Rock is also equally divided between two of Albuquerque's five river crossings Montano Rd to the North and I-40 to the South.

Search and Find all available Story Rock Homes For Sale

The Story Rock Subdivision is just across the street and within walking distance to the Petroglyph National Monument . So Story Rock derived the name from the many stories pecked into the rocks by the ancient Indians and settlers. Story Rock offers a private community park which ties into the extensive Albuquerque Bike Trail System.

The Story Rock community is comprised of approximately 150 homes ranging in size from a single story 1412 sq.ft plan to a 3000' two story model. All the homes in Story Rock were built by DR Horton. Story Rock has a relatively low turn over rate because of the excellent location and tightness about the neighborhood.

Many modern conveniences are just minutes away from Story Rock. With the Coors/I-40 Interchange just 3
minutes away you will find most anything you need including Walmart, Walgreens, Home Depot, Chili's, Applebees, Albertons grocery and much more.

The Story Rock public schools include Volcano Vista High, Lyndon B Johnson (LBJ) middle and Chaparral elementary. The ABQ Transit system makes regular stops on both Coors Blvd and Unser making public transportation accessible for Story Rock residents.

Story Rock HOA A Covenant Protected Neighborhood
Story Rock Market Update for 2012


View Story Rock Subdivision Albuquerque NM in a larger map
If your considering the purchase or sale of a Story Rock home or any home in the Albuquerque Metro area it would be my pleasure to assist you. Feel free to call, text or email me,John McCormack 505.980.4576. John@AlbuquerqueHomes.com
Welcome to the Ventana Ranch Subdivision and Neighborhood in NW Albuquerque.

Ventana Ranch is a very large master planned community located in the far North West quadrant
of Albuquerque NM. Ventana Ranch is thoughtfully laid out neighborhood and offers exceptional walking and bike paths, lush green parks and a big community swimming pool and tennis courts. In addition there is a huge 17 acre Ventana Park maintained by the City of Albuquerque and offers outdoor lighting and other amenities.

The entire Ventana Ranch neighborhood and community consists of thousands of homes built by numerous local and and national builders including DR Horton, Pulte, Centex, KB, Sivage Thomas, Raley, Fuller, Vantage and others. Each builder created a separate sub-community offering their particular model options at that time.

Homes for sale in Ventana Ranch are numerous and options plentiful.

Be sure to check out the Ventana Ranch Homeowners Association

The public schools supporting the Ventana Ranch Subdivision offer some of the newest and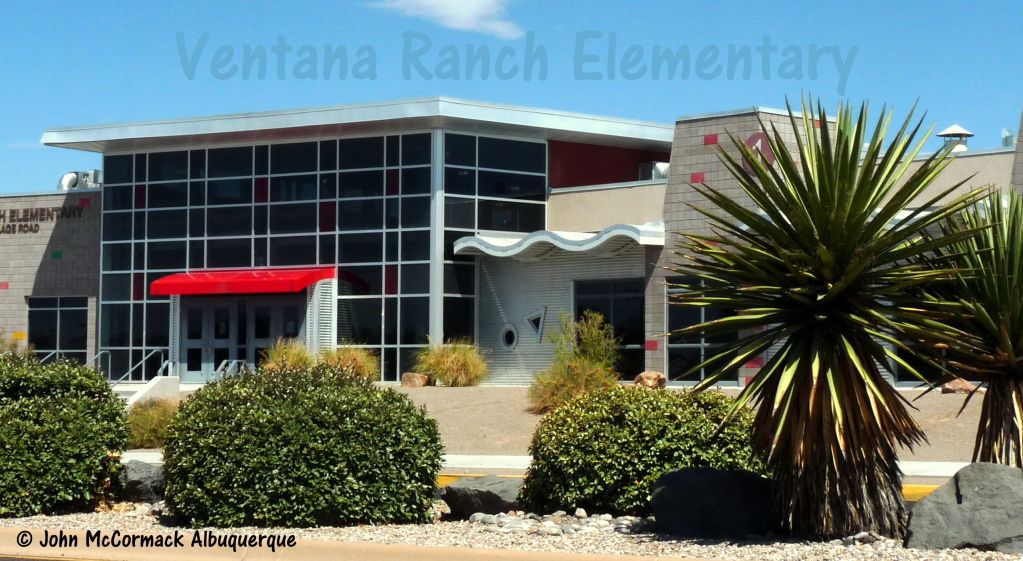 rising stars for the Albuquerque Public School System. Most Ventana Ranch high school students would attend the newest Volcano Vista High and middle school students at James Monroe also a newer school. Elementary is divided between Ventana Ranch elementary, Tierra Antigua and Sunset view. Be sure to check a school zone map or call APS for accuracy. Central New Mexico Community College (CNM) is just a stone's throw north of Ventana Ranch

The Ventana Ranch neighborhood and community offers a home for just about anybody in a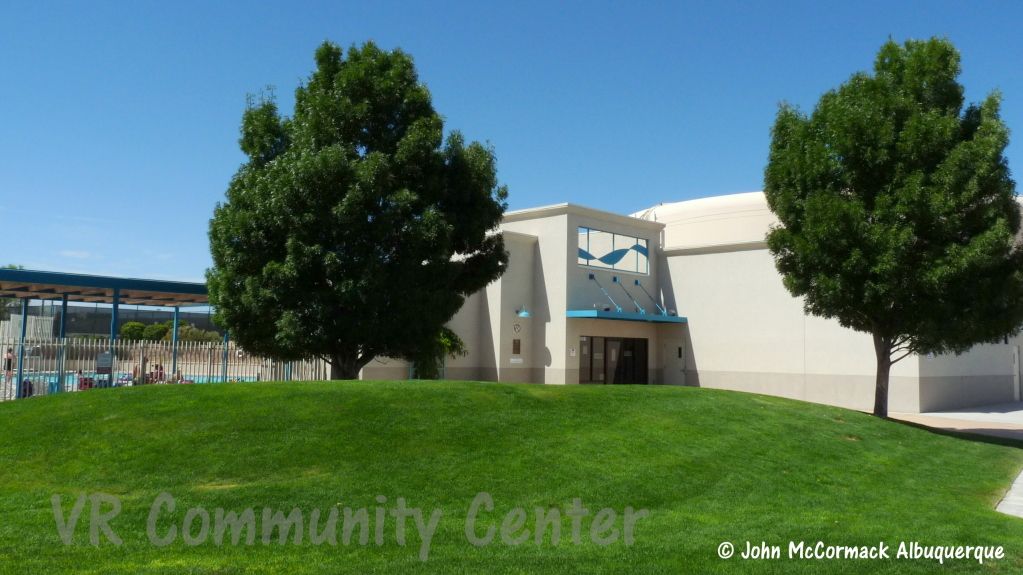 multitude of sizes, styles and price ranges. At publication of this article over 85 detached homes were available with an average size of 2,055 sq.ft and an average price of just over $196,000. Prices ranged from the mid $120's to the low $290's. There are a few gated communities within Ventana Ranch subdivision and you can even find a rare brick home by Pulte or Sivage Thomas within Ventana Ranch. Visit Albuquerque Homes and Lifestyles for future Ventana Ranch market reports.

With the newest extensions of Paseo Del Norte and Unser Blvd commute times are very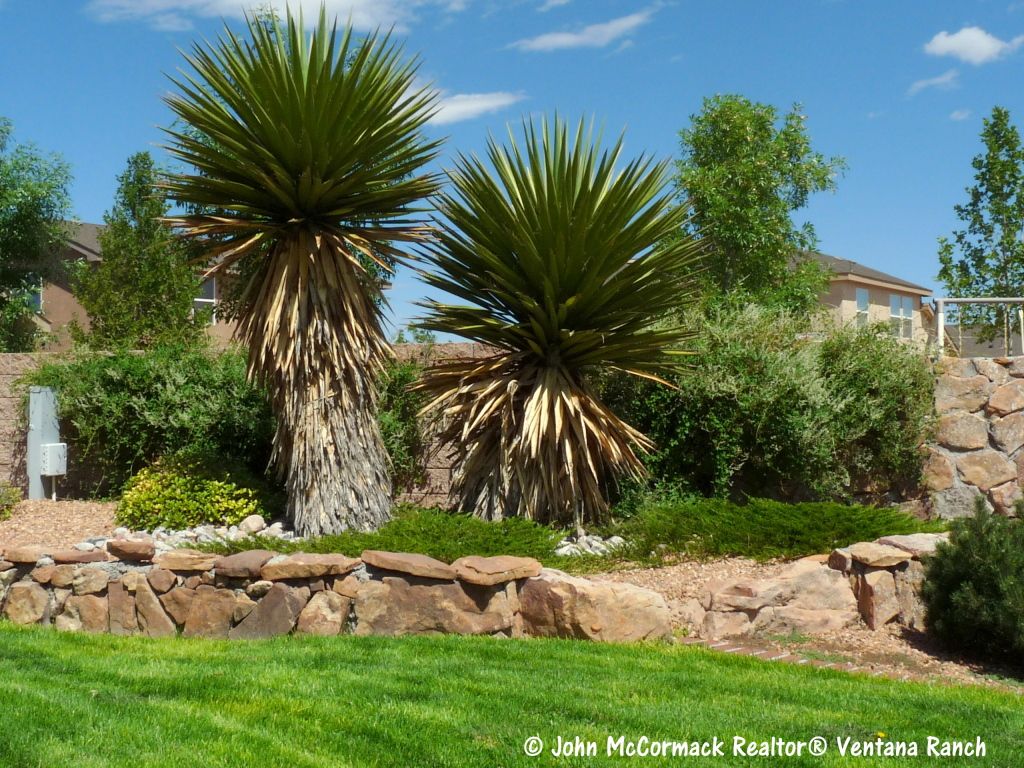 reasonable and river crossings to NE Albuquerque are accessible. Shopping is convenient with several new shops, restaurants, gas stations popping up at the Paradise Blvd and Universe areas. Cottonwood Mall and Cottonwood Corners provide an abundance of shops, grocery stores and necessities. Paradise Greens golf course is just down the hill as well as the local post office and many restaurants.


View Ventana Ranch Albuquerque in a larger map

If you are considering the purchase or sale of a Ventana Ranch home I would welcome the opportunity to assist you and represent your best interest. I know Ventana Ranch well and it would be my pleasure to be your select Realtor®
Western Trails Estates NW Albuquerque


Western Trails Estates is a small neighborhood of homes built by Fuller Homes. Western Trails consists of about 120 home sites ranging from a single story 1484 Sq. Ft home with 3 Bedrooms, 2 Baths and a 2 Car garage to a generous 2413 Sq. Ft home showing 4 and possibly 5 bedrooms with 2.75 baths. Homes range between $150's to $250's. 7 Homes sold in the past year March 2011-March 2012 with an average sales price of $176,714.00.

View all Western Trails Estates homes for sale.

The Western Trails community was built between 2005-06'. The homes style are stucco exteriors with a concrete tile roof. Landscape is typically Xeriscape in the front yards with various landscape option in the back of the home.

The location of Western Trails is ideal situated at the main cross road of Coors Blvd and Western Trails (See
Map) Major river crossings are easily accessible at I-40 to the south 2 Miles or Montano being about 1 Mile to the North. Any commute from Western Trails should be quick and hassle free. Street names for Western Trails include Havasue, Payson, Benson, Bridgeport, Carefree, Hayden, Stafford and McNary. These are all city names of our neighboring Arizona.

Petroglyph National Monument is within walking distance or Riconada Canyon a short drive. Several conveniences are located just north of Western Trails including the Jinja Bar and Bistro, Armandos Salon, LA Boxing, Randy's Indoor Golf and many others. Major shopping is found at Cottonwood Mall to the north or at Coors/I-40 Interchange to the south.

Western Trails Estates is part of the APS (Albuquerque Public School System) including Chaparral elementary, John Adams middle school and Volcano Vista high school.

View
Western Trails Estates
in a larger map